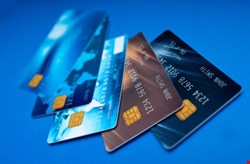 A new study from Phoenix Marketing Group shows a majority of cardholders think that both store and online purchases are not very secure. Furthermore, they're looking for proactive help from business on that front. The survey showed that most people don't think enough is being done by credit card companies, merchants or the government to prevent fraud.

Chip cards are one answer – chip-based payment cards, also known as smart cards, have an embedded microprocessor chip that contains the information needed to use the card for payment, and is protected by various security features, so they're a more secure alternative to traditional magnetic stripe payment cards. Most of the world has moved to chip-and-PIN cards already, but the US has been a stubborn holdout.
After losing 40 million shoppers' card information in the high-profile holiday breach, Target just announced a goal for its accelerated, $100-million plan to move its REDcard portfolio to chip-and-PIN-enabled technology (and to install supporting software and next-generation payment devices in stores). Beginning in early 2015, it will begin accepting payments from all chip-enabled cards in its stores. In addition, the entire REDcard portfolio, including all Target-branded credit and debit cards, will be enabled with MasterCard's chip-and-PIN solution. Existing co-branded cards will be reissued as MasterCard co-branded chip-and-PIN cards.
That move could change US consumer perception on chip and PIN: i.e., there isn't much of one. Awareness of chip cards is low (only one-fifth of consumers are very familiar with them). However, once the product is understood, two out of three cardholders think chip cards would be very important to their credit card security.
For point-of-sale store purchase, the research concluded that consumers would choose a chip credit card over a magnetic stripe card by a five-to-one margin. "Among consumers saying that chip cards offer them the level of security and convenience they're looking for, most (62%) opted for chip and PIN transactions over chip and signature transactions," said Greg Weed, researcher at Phoenix Marketing International. "While card use hasn't changed much as a result of the security breaches at this time, concerns are increasing and could begin to impact behaviors in the future."