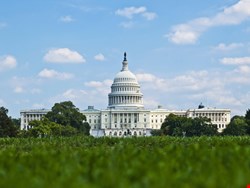 An amendment to the existing defense appropriations bill deals with the business records collection provision of the Foreign Intelligence Surveillance Act. It has been introduced by Rep. Justin Amash (R-Mich.), with bipartisan support from Rep. John Conyers (D-Mich.) and others. It reads:
"None of the funds made available by this Act may be used to collect tangible things (including telephone numbers dialed, telephone numbers of incoming calls, and the duration of calls) pursuant to an order under section 501 of the Foreign Intelligence Surveillance Act of 1978 (50 U.S.C. 1861) if such things do not pertain to a person who is the subject of an investigation described in such section."
Which is a longwinded way of saying that none of the money provisioned by FISA can go to collecting and keeping phone records, unless a specific record relates to a specific investigation into a specific person. If passed, there will be no more paying for the NSA to indiscriminately carry out widespread phone surveillance.
The NSA gets phone record metadata from the FBI, which files the actual requests to phone companies for the information, dubbed "business records." That's authorized by section 501 of FISA. Section 501 itself was broadened in scope by section 215 of the PATRIOT Act, however, to include "mass collection" of data as warranted by an investigation looking to prevent acts of terror.
During a House Judiciary Committee oversight hearing on FISA last week, members of both parties harshly criticized the NSA and intelligence officials over the application of both FISA and the PATRIOT Act, for far outstripping the powers they were meant to have.
"We never, at any point during this debate, approved the type of unchecked, sweeping surveillance of United States citizens employed by our government in the name of fighting the war on terrorism", said committee ranking member John Conyers (D-Mich.), according to a report in the Washington Post. He went on to add that the practice is "unsustainable, it's outrageous and must be stopped immediately."
James Sensenbrenner Jr. (R-Wis.) said that Section 215 may be stripped from the PATRIOT Act completely when it comes up for renewal in 2015.
The House is voting on the appropriations bill on Wednesday, which will help frame how welcome the Amash amendment is to the debate.