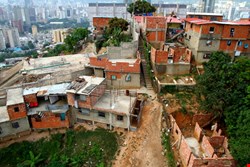 By taking malware infection data from the Microsoft Security Intelligence Report and comparing it to international socioeconomic statistics, Microsoft has sought to explore how cybersecurity is changing in countries that are still developing technological capacities in a new report. Globally, it found that digital access, institutional stability and economic development all have a profound effect on malware infection rates.

When it comes to the former, "while increased Internet access…is correlated with improvement in cybersecurity at the global level, it has the opposite effect among countries with developing economies and lower levels of technological development," said Paul Nicholas, senior director of global security strategy and diplomacy at Microsoft, in a blog. "Specifically, we saw that as these countries increased their digital access, they experienced a rise in malware rates."
This suggests that countries with a developing level of technology usage may be unprepared to secure their technology infrastructure commensurate with the increase in citizen use of computer systems, which provides greater opportunity for malware to spread unchecked.
As technology maturity increases though, a tipping point emerges where cybersecurity catches up with technology deployments.
"When a country crosses the tipping point, increased access ceases to encourage the growth of malware and begins to reduce it," said Nicholas. "Improving digital access after that point correlates with improved cybersecurity – the effect observed in more technologically mature countries."
Microsoft broke down global security into three buckets. Maximizers are countries with effective cybersecurity capabilities that outperform the model expectations – usually developed markets; aspirants are countries that are on a par with the model and are still developing cybersecurity capabilities; and seekers are countries with higher cybersecurity risk that underperform on model expectations. Seeker countries are generally those with developing economies and lower levels of technological development.
From 2011 to 2012, it found that global malware rates are actually trending down, but not evenly around the world. Among the 105 countries analyzed, malware prevalence decreased an average of 23.3%. However, the average decrease among seeker countries was only 3.7%.

"Although countries most in need of cybersecurity gains may experience early struggles in their digital journey, they can eventually come to enjoy positive outcomes, including the innumerable benefits of greater development," Kevin Sullivan, principal security strategist for trustworthy computing at the company, said in a blog. "Microsoft urges governments to consider policies that support continued growth in technological sophistication, access, and security, and as a crucial first step, to adopt a national cybersecurity strategy."