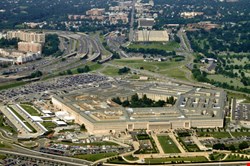 If a major cyberattack does not occur but smaller attacks continue, the TechAmerica Foundation predicted that DoD cybersecurity spending will increase to a more modest $10.5 billion by fiscal year 2016, according to a report on the data by NextGov.
The Army and Air Force each are projected to spend $1.1 billion on cybersecurity, the Marines and Navy likely will expend a combined $900 million, and the rest of the military services and agencies should disburse a total of $5.1 billion on cybersecurity in fiscal year 2012, the forecast indicated.
"I think a lot of this is going to be needs driven," rather than fueled by cybersecurity policy reforms pending in Congress, Next Gov quoted Dan Heinemeier, TechAmerica's chief administrative officer, as saying.
Civilian agencies are predicted to spend much less on cybersecurity, with a total budget of $2.1 billion in fiscal year 2012, according to the forecast. The Obama administration's fiscal 2012 budget requests $936 million for cyber operations at the Department of Homeland Security, according to NextGov.
"We do see cybersecurity as one potential bright spot, as there may be some growth in that arena. I wouldn't go as far as to say we're going to see sharp increases", Heinemeier added.