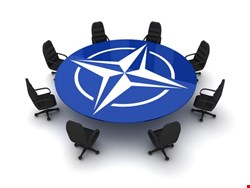 DoD officials have worked with NATO staff to bring all NATO networks – civilian and military – under the NATO Cyber Incident Response Center, which is expected to be completed later this year, said Steven Schleien, DoD's principal director for cyber policy at the International Engagement on Cyber conference held at Georgetown University.
Recently, DoD officials have begun talks with the Japanese, South Korean, and New Zealand defense ministries about collective cyber self-defense, while working closely with the British and Australian ministries "to talk about a whole spectrum of cyber interoperability", Schleien said.
Navy Rear Admiral Samuel Cox, director of intelligence at US Cyber Command, warned the conference that what "we're looking at is a global cyber arms race [that] is not proceeding in a leisurely or even linear fashion but is, in fact, accelerating."
Cox said that it is relatively easy to cooperate with longstanding international partners like the UK and Australia, as well as Canada and New Zealand. Beyond those nations, Cox added, "it gets significantly harder."
One of the impediments is the high-level classification of the information, which has "very strict rules on how you can share this with foreign governments," he said.
The bottom line is that military cooperation with foreign countries in cyberspace "is still an extremely difficult environment to try to navigate through," Cox concluded.