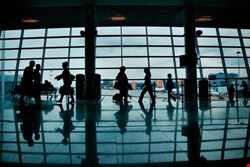 On receipt of his asylum certificate at the Moscow airport, where he has lived since his flight from Hong Kong, Snowden said, "Over the past eight weeks we have seen the Obama administration show no respect for international or domestic law, but in the end the law is winning. I thank the Russian Federation for granting me asylum in accordance with its laws and international obligations."
The development comes two days after fellow whistleblower Bradley Manning was found guilty of the majority of charges laid against him, and now awaits a sentence that could in theory be up to 136 years behind bars. It also comes one day after Snowden's revelations of the NSA's XKeyscore data mining tool were published by the Guardian.
Snowden left the airport by taxi accompanied by WikiLeaks legal advisor Sarah Harrison, who, says a WikiLeaks statement, "has remained with Mr Snowden at all times to protect his safety and security." His current whereabouts are unknown. It is believed that he will talk to the press in a day or two.
The New York Times reports, "The State Department has said that any step signaling Russia's formal acceptance of Mr. Snowden as an asylum seeker would be 'deeply disappointing,' and administration officials have hinted that President Obama may respond by scrapping a planned visit to Moscow in September." Other suggestions include a boycott of the Olympic Games to be held in Sochi.
However, presidential aide Yuri Ushakov told the official Russian news agency RIA Novosti, "We are aware of the atmosphere being created in the US over Snowden, but we didn't get any signals [indicating a possible cancellation of the visit] from American authorities."
The WikiLeaks statement, clearly attempting to pressure the US into not 'over-reacting', quotes United Nations General Assembly Resolution 2312: "the grant of asylum...is a peaceful and humanitarian act and...as such, it cannot be regarded as unfriendly by any other State."
WikiLeaks also points out that it was the US government canceling Snowden's passport that stranded him in Moscow. Venezuela, Bolivia and Nicaragua have all granted him asylum. "At a meeting with lawyers and human rights organizations on the 12th of July, Mr Snowden announced that he accepted Venezuela's asylum offer, although ultimately US interference has, at least for the time being, prevented its practical acceptance."