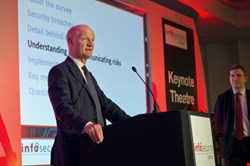 Keynote speakers including the FBI and Troels Oerting, head of the European Cybercrime Centre, highlighted the threat that security breaches now present to global economies, adding that stronger collaboration is needed to prevent 'cyber-war'.
The UK government used the show to announce its intentions at improving this collaboration, with Universities and Science minister David Willetts pledging that investment in cyber security exports will rise to £2bn by 2016 during his keynote speech.
"What this year's conference proved is that security professionals cannot sit outside the boardroom anymore", said Joy-Fleur Brettschneider, group marketing manager at Infosecurity Europe at Reed Exhibitions. "The results of a breach do not just affect IT but the whole business; in fact as some of our delegates have claimed, it can even result in bankruptcy."
The show, which attracted 15,253 (pre ABC Audit) unique industry professionals from 73 countries across the three days, saw a number of important topics discussed in the Keynote Theatre. These included debates on the future-proofing of information and rethinking information security education strategies that will engage Generation Y.
In spite of industrial tube strike action planned by the RMT during the event, this year saw an increase in visitor attendance from director level executives responsible for IT decision-making, as well as IS/IT managers and industry analysts. A total of 345 exhibitors from 24 countries showcased their latest information security innovations, 78 of which were new exhibitors for 2014.
"This year's security as a business enabler theme brought together some of the information security industry's leading voices to educate and inform a growing base of exhibitors from around the world", commented Claire Sellick, group director for the Infosecurity Group at Reed Exhibitions.
Next year, Infosecurity Europe will be celebrating its 20th year with a change in date and venue – the show will take place at London Olympia from 2nd to 4th June 2015.
The full report, 'Information security: From business barrier to business enabler', is available to download here.