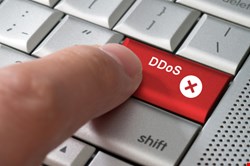 Application delivery firm F5 Networks has announced the acquisition of privately held Defense.net for an undisclosed sum in a deal designed to bolster its security credentials by adding extra anti-DDoS capabilities.
His firm offers two main products: DDoS Frontline for primary protection and DDoS SWAT for 'secondary' protection – that is, for firms who want a back-up provider in case their primary DDoS protection service fails.
Defense.net claims that its cloud-based DDoS mitigation service offers "10 times the defense bandwidth per customer" compared to the rest of the market, enabling the firm to absorb even the largest attacks.
It's a decent fit with F5 Networks – which provides technology to ensure applications can be delivered quickly and securely, and with high availability.
Defense.net's technology will slot into F5's existing portfolio of on-premise DDoS protection tools, which are founded on its Application Delivery Firewall (ADF), BIG-IP Local Traffic Manager and BIG-IP Global Traffic Manager products.
This will enable it to offer a hybrid approach to DDoS protection, combining the "resilience and scale" of the cloud with the "granularity and always-on capabilities" of on-premise, according to senior product manager, Lori MacVittie.
"This approach requires only inbound traffic to be inspected, which dramatically decreases its bandwidth requirements compared to symmetric DDoS technology. It further benefits organizations in reducing the latency incurred by traditional approaches, which means less of an impact on application performance and the quality of experience demanded to keep customers and employees satisfied."