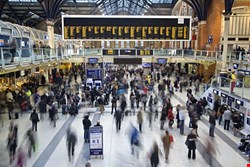 The Open Standard for Public Transport (OSPT) Alliance and ITSO, the organization responsible for the UK national specification for smart ticketing, are joining forces to promote more advanced security measures.
The two groups have agreed to participate as members in each other's organizations and work on creating a framework for using the CIPURSE open security standard that OSPT Alliance developed to lock down smart ticketing and electronic fare collection systems for subways, commuter rail, buses, trams and other public transport systems.
CIPURSE aims to create a cohesive, single approach for local and regional transit authorities to future-proof fare collection systems with more advanced security than currently in use. As an open standard, it promotes vendor neutrality and cross-vendor system interoperability, which is geared to result in lower operating costs and greater flexibility for transport system operators.
"ITSO is an established, recognized player in smart ticketing, and has developed some key technology we believe would be of great interest to OSPT Alliance members as they deploy fare collection systems based on the CIPURSE security standard," said Laurent Cremer, executive director for the OSPT Alliance, in a statement.
ITSO also operates the ITSO Security Management System (ISMS), a secure key management and distribution system specifically developed to enable ITSO-compliant smart ticketing systems to be set up. The OSPT Alliance hopes the joint security initiative will result in it delivering a more diverse set of card products to use with the ISMS system, including AES-based products.
The OSPT Alliance earlier in the month released the CIPURSE V2 Mobile Guidelines, a comprehensive set of requirements and use cases for developing and deploying CIPURSE-secured transit fare mobile apps for near field communication (NFC)-enabled smart phones, tablets and other smart devices.
"Transit tickets are already one of the most frequently used contactless card applications in the world, and now as people are looking to their NFC phones to replace their physical payment cards, it is only natural that transit fare systems should go mobile, too," said Cremer in announcing the guidelines. "With the release of these new mobile guidelines, the OSPT Alliance continues to fulfill the promise of the CIPURSE standard to provide a single, consistent set of specifications for all the security, personalization, administration and life-cycle management functions needed to create a broad range of interoperable transit applications, from low to high end and across all form factors."