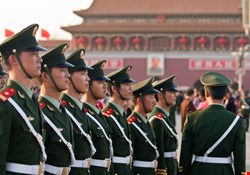 The Chinese army has "embraced the idea" that success in war is based on its ability to "exert control over an adversary's information and information systems, often preemptively", warned the report, Occupying the Information High Ground: Chinese Capabilities for Computer Network Operations and Cyber Espionage. The 136-page report was prepared for the US-China Economic and Security Review Commission by US defense contractor Northrop Grumman.
"This goal has effectively created a new strategic and tactical high ground, occupying which has become just as important for controlling the battlespace as its geographic equivalent in the physical domain", the report observed.
The People's Liberation Army (PLA), as the Chinese army is known, has integrated its various computer and network attack capabilities into a strategy it calls "information confrontation." These capabilities have developed to such an extent that they "pose genuine risk to U.S. military operations in the event of a conflict", such as a confrontation over Taiwan.
"PLA commanders will almost certainly attempt to target [US information] system[s] with both electronic countermeasures weapons and network attack and exploitation tools, likely in advance of actual combat to delay U.S. entry or degrade capabilities in a conflict", the report judged.
A senior US defense official who did not want to be identified told Reuters that the Pentagon strongly disagreed with the report's assessment of China's capabilities in this area. "No one should think that Chinese cyber capabilities can seriously impede U.S. military operations", the official said.
China has repeatedly criticized the US commission for preparing biased reports and vilifying the country without substantial evidence.