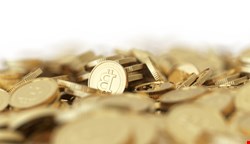 Malwarebytes said in a blog that it has been "fascinated" with the digital currency since the beginning. As Bitcoin's popularity has grown, the team decided to add it as a secure option for purchasing Malwarebytes Anti-Malware, its consumer software suite.
Bitcoin, as a virtual currency, has had its share of controversy thanks to its untraceable, anonymous nature. Like cash, it can't be linked back to its owners – so it provides a handy way for criminals to move money around. But privacy advocates and fans of digital lifestyles also have embraced Bitcoin, which provides a path to private banking for everyone from political dissidents and activists to those who just don't like leaving a record behind, on principal.
"As a leader in security, we are excited to accept a crypto currency that provides a level of anonymity to our security-conscience customers," said Marcin Kleczynski, CEO of Malwarebytes, in a statement. "Protecting customer privacy is part of our DNA, and taking payment in Bitcoins is a logical extension of that ethos. We think the story behind Bitcoin is an exciting one as well, and we're thrilled to support the Bitcoin community. Malwarebytes is a forward-leaning company, and this is a natural fit."
A Bitcoin logo on the product page will designate what can be bought with the currency. To start, Malwarebytes will be accepting Bitcoin for Malwarebytes Anti-Malware Pro.
The company will use Coinbase as the payment platform. Coinbase uses two-factor authentication for account logins, and has offline storage for the currency, so the risk of a wallet being snagged by malicious individuals is unlikely. It also uses SSL encryption for all traffic coming in and out of the site, and AES-256 encryption for all keys and wallets stored in its vaults.
For those wanting full anonymity, it's possible to skip Coinbase and use a personal wallet to send the required funds to the Malwarebytes Coinbase address, either by scanning the QR code presented or copying the wallet address and sending it manually.
"Malwarebytes has long been an advocate of online privacy rights, and employs powerful anti-spyware and aggressive Potentially Unwanted Program (PUP) detection in its flagship anti-malware product, Malwarebytes Anti-Malware, specifically to protect customer privacy," the company said. "Over the last year, there have been massive amounts of news stories for and against Bitcoin being used as a currency, here at Malwarebytes we have been advocates for the principals that lent to its creation."
Bitcoin's value vis-a-vis the dollar fluctuates as any currency exchange does, but the security company said that consumers will always pay a price that equates to the software's actual dollar value. At press time, the BTC price for Malwarebytes Anti-Malware was 0.03106275 BTC, with the exchange rate at $807.81 per 1 BTC.
"We hope that by leading the way as the first major security company to accept Bitcoin in return for our products and services, that we can inspire other companies to take a step out of their comfort zone and seize the future of online commerce and the security that accompanies it," the company said.