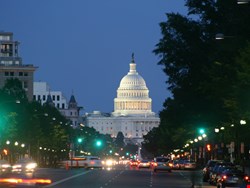 Wyden prevented the bill, which would grant a five-year extension to 2008 amendments to the Foreign Intelligence Surveillance Act (FISA), from being quickly passed by the Senate in a unanimous consent vote, which usually takes place in a virtually empty Senate chamber when no one is around to object. Instead, the Senate will have to hold floor debate on the bill before a vote is taken on the measure.
FISA enables the US government to conduct warrantless wiretapping of phone calls and emails as long as one of the parties to the communication is located overseas, in order to collect foreign intelligence information.
Wyden said he objects to the extension of the law because it does not contain protections against warrantless "back door" searches of Americans. "I believe that there should be clear rules prohibiting the government from searching through these communications in an effort to find the phone calls or emails of a particular American, unless the government has obtained a warrant or emergency authorization permitting surveillance of that American", he said.
The senator is calling on the Obama administration to provide information regarding the number of American citizens who have had their communications collected and reviewed under the law. Wyden said that he and Sen. Mark Udall (D-Colo.) asked the administration last year for those figures.
The Office of the Director of National Intelligence responded that it was "not reasonably possible to identify the number of people located in the United States whose communications may have been reviewed under the authority" of the law. Nearly a year later, Congress has yet to receive an estimate of the number of Americans who have had their communications collected under the law, Wyden said.