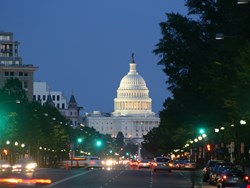 Wyden termed the Cybersecurity Act (S 2105) an "overreaction" to cybersecurity threats that would undermine privacy rights. He said the Senate bill suffers from the same "defects" as the controversial CISPA, which passed the House last month, according to a report by The Hill newspaper.
The Oregon senator said both bills "subordinate all existing privacy rules and constitutional principles to the poorly defined interest of 'cybersecurity.'"
Wyden said the Senate bill should be more specific about what types of data can be shared and which agencies can have access to it. He argued it should be tougher for companies to secure legal immunity under the legislation.
A spokeswoman for Sen. Joe Lieberman (I-Conn.), a sponsor of the Cybersecurity Act, told the newspaper that the senator is working to address privacy and civil liberties concerns about the bill.
"There is no sound policy reason to sacrifice the privacy rights of law abiding American citizens in the name of cyber-security, and I will fight any legislation that asks this Senate to make that choice", Wyden said.
The Democratic leadership is trying to bring the Cybersecurity Act to the Senate floor for a vote, but so far Republican opposition has stymied that effort.