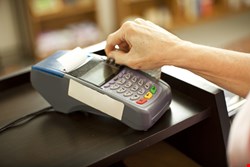 The Modesto, Calif.-based Save Mart Supermarkets grocery chain, which operates the Save Mart and Lucky stores, said that it uncovered the skimming during routine inspection of card readers at one of its stores.
The company said that it notified customers who used the self-service checkout lanes and the financial institutions about the skimming activity, and that it is working with local and federal law enforcement on the investigation.
In response to the skimming discovery, Save Mart replaced or inspected 2,557 credit and debit card readers – including those in staffed grocery lines – in 233 stores in Northern California and Northern Nevada.
In early December, the company's chief financial officer, Stephen Ackerman, advised customers who had used the self-service checkout terminals in October and November to "consider closing their bank account and opening a new one".
At that time, the company said that their terminals had been tampered with, but did not specify the type of tampering.