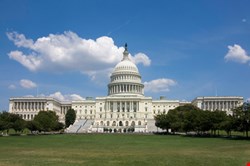 Last week, Sen. Joseph Lieberman (I-Conn.) and four other sponsors significantly amended the Cybersecurity Act by dropping government cybersecurity mandates and beefing up privacy protections in order to gain the support of Republican senators and privacy groups.
This was followed by a Wall Street Journal op-ed penned by President Obama in which he warned that "we can see the cyber threat to the networks upon which so much of our modern American lives depend" and urged the Senate to pass the Cybersecurity Act.
Obama also called on Congress to send him comprehensive cybersecurity legislation that he can "sign into law." This will be a more difficult task than Senate passage of the Cybersecurity Act since the Republican-controlled House has made it clear it opposes a "comprehensive" approach.
Last year, a House Republican task force issued a report opposing a "comprehensive" approach to cybersecurity and supporting private sector incentives and information sharing to improve cybersecurity.
"These recommendations provide sound, concrete steps to help strengthen our cybersecurity now, while also highlighting issues that need more work. Starting with incentives, information sharing, and updating some key laws can lead to real progress rather than more gridlock like we have seen with larger proposals", said Rep. Mac Thornberry (R-Texas), who chaired the task force.
So far theHouse has passed the Cyber Information Sharing and Protection Act (CISPA), which reduces legal barriers to information sharing between companies and the government, and the Federal Information Security Management Act (FISMA) reform bill, which retains responsibility for FISMA with the Office of Management and Budget. President Obama has already threatened to veto CISPA and has indicated he supports moving FISMA responsibility to the Department of Homeland Security.