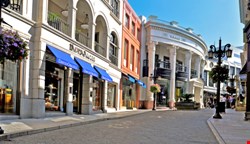 Some of the United States' biggest retail brands have joined forces on a new organization designed to make it easier for them to receive and share threat information in a bid to better protect their customers from data theft.
The Retail Industry Leaders Association has teamed up with various big name retailers including Target, JC Penney and American Eagle Outfitters to form the Retail Cyber Intelligence Sharing Center (R-CISC).
R-CISC will facilitate the sharing of information on the latest threats both internally and with a direct line into law enforcers from the FBI and Department of Homeland Security, as well as providing advanced training and education for members.
The new organization will be comprised of three main parts: a Retail Information Sharing and Analysis Center (R-ISAC), an education function, and a research arm dedicated to collaborating with academia in order to
work on emerging technologies and potential future threats.
"Retailers place extremely high priority on finding solutions to combat cyber attacks and protect customers," said RILA president, Sandy Kennedy, in a
statement.
"In the face of persistent cybercriminals with increasingly sophisticated methods of attack, the R-CISC is a comprehensive resource for retailers to receive and share threat information, advance leading practices and develop research relevant to fighting cybercrimes."
The launch of R-CISC comes as US consumers are still reeling from the fallout of the breach of major retailer Target at the end of last year in a cyber attack which is now thought to have exposed the records of over 100 million customers.
Since the attack, which took place during the busy 2013 shopping season, Target's CEO and president Gregg Steinhafel was forced out and the firm has
recruited a new CIO
, Bob DeRodes, to manage ongoing data security enhancement efforts.
"We have seen a sharp increase in the number of malicious actors attempting to access personal information or compromise the systems we all rely on, in the retail industry and elsewhere," said Phyllis Schneck, deputy under secretary for cybersecurity and communications at the DHS National Protection and Programs Directorate.
"We continue to work with the private sector to create shared situational awareness of potential cybersecurity vulnerabilities. The Retail Cyber Intelligence Sharing Center will further enhance DHS's collaboration with this important sector of the American economy with information and resources that can help companies keep their networks and the information stored on them safe and secure."