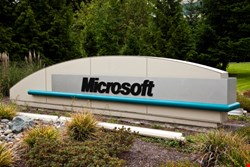 The Cybercrime Center is home to a raft of laboratories, offices, evidence rooms and more, used by members of Microsoft's legal and technical teams that have been tasked with researching and rooting out cybercrime. Members include attorneys, investigators, technical experts and forensic analysts. The team will also have access to a variety of technology platforms to allow them to visualize and identify global cyber-threats as they develop in real time.
Some of those tools include SitePrint, which allows the mapping of online organized crime networks; PhotoDNA, an anti-child-pornography technology; cyberforensics, a new investigative capability that detects global cybercrime, including online fraud and identity theft; and cyberthreat intelligence from Microsoft's botnet takedown operations.
Microsoft's detective efforts have borne significant fruit in the past, notably in the Citadel botnet takedown over the summer.
"The Microsoft Cybercrime Center is where our experts come together with customers and partners to focus on one thing: keeping people safe online," said David Finn, associate general counsel of the Microsoft Digital Crimes Unit, in a statement. "By combining sophisticated tools and technology with the right skills and new perspectives, we can make the Internet safer for everyone."
Equally importantly, the Cybercrime Center includes a separate and secure location for third-party partners, allowing cybersecurity experts from around the world to work in the facility with Microsoft's experts for an indefinite period of time. The dedicated space is meant to facilitate partnerships with others in the security and tech industries, academia, law enforcement and customers.
The stakes, Finn added, could not be higher: "There are nearly 400 million victims of cybercrime each year," he was quoted as saying in a Microsoft case study. "And cybercrime costs consumers $113 billion per year. We understand that there's no one single country, business or organization that can tackle cybersecurity and cybercrime threats alone. That's why we invest in bringing partners into our center – law enforcement agencies, partners and customers – into this center to work right alongside us."
The sentiment is echoed by those on the government side of the equation. "In the fight against cybercrime the public sector significantly benefits from private sector expertise, such as provided by Microsoft," said Noboru Nakatani, executive director of the INTERPOL Global Complex for Innovation. "The security community needs to build on its coordinated responses to keep pace with today's cybercriminals. The Microsoft Cybercrime Center will be an important hub in accomplishing that task more effectively and proactively."
In practice, the center will function as a kind of cyber-CSI unit, Finn said. "It's like a functional movie set," said Finn, a former federal prosecutor in New York City, "But there is real-life cybercrime going on, and these are real-life labs to fight it in a cutting-edge way. This is not a TV show – we have important cases we're working on right now, right on the other side of the window."