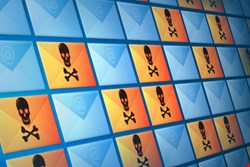 "Win32/TrojanDownloader.Wauchos is currently accounting for 24.69% of UK detections picked up by our telemetry," ESET told Infosecurity. Worldwide, this malware accounts for just 0.83% – and its previous peak was at 3.23% on May 14.
A similar surge is occurring in Germany, although not quite so dramatic, at 14.3%. "It's also presenting an upward trend, but in much smaller volumes so far, in other parts of Europe," ESET added.
The likelihood is that the trojan is being distributed by an ongoing spam campaign. Users should look out for, and avoid suspicious file attachments – including E-ticket-BritishAirways.pdf.exe, Vodafone_MMS.jpg.exe, Facebook-message-Foto.jpeg.exe, and Pay_by_Phone_Parking_Receipt.pdf.exe.