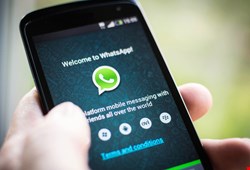 WhatsApp has always prided itself on not even collecting user data. "Respect for your privacy is coded into our DNA, and we built WhatsApp around the goal of knowing as little about you as possible," says co-founder and CEO Jan Koum. However, the reality is that as part of Facebook, it is Facebook's wishes that will ultimately prevail.
Earlier this month US privacy groups filed a complaint with the FTC asking it to suspend the acquisition. "WhatsApp built a user base based on its commitment not to collect user data for advertising revenue," says the complaint. "Facebook routinely makes use of user information for advertising purposes and has made clear that it intends to incorporate the data of WhatsApp users into the user profiling business model." This, say the privacy groups, "constitutes an unfair and deceptive trade practice."
But Jan Koum, now also a director with Facebook (before starting WhatsApp, he applied to work at Facebook, but was turned down), hit back on the WhatsApp blog this week. "We don't know your likes, what you search for on the internet or collect your GPS location. None of that data has ever been collected and stored by WhatsApp, and we really have no plans to change that," he wrote.
"Everything that has made WhatsApp the leader in personal messaging will still be in place. Speculation to the contrary isn't just baseless and unfounded, it's irresponsible. It has the effect of scaring people into thinking we're suddenly collecting all kinds of new data. That's just not true, and it's important to us that you know that."
This is unlikely to change any of the speculation to the contrary. The two companies will continue to operate as separate entities, but within the Facebook umbrella. There will be many ways in which Facebook will be able to collect WhatsApp user data while WhatsApp remains true to its ideals and does not. "Facebook has repeatedly changed privacy policies on users, having the effect of a slow boil that constantly pushes the comforts of users who are at this point too reliant on the network to leave," notes The Washington Post.
It is possible that the true purpose behind the purchase is entirely defensive. Facebook has been losing its appeal with the younger demographic, who have shown signs of switching to more private forms of communications. WhatsApp is a prime example – and its dramatic growth (450 million users in five years) would suggest that, if left alone, it could even outstrip Facebook (1.3 billion users in 10 years) within a few years. Facebook needs to protect its user numbers to remain successful.
The revenue argument is less compelling. WhatsApp currently charges a nominal $1 per year to its users – making it unlikely that Facebook could ever recover the $19 billion cost through subscriptions; unless it increases the subscription price and risks losing users. That merely leaves some method of monetizing WhatsApp user data to pay for the purchase, which is Facebook's own business model.
In the meantime, however, Jan Koum is saying very clearly, "Above all else, I want to make sure you understand how deeply I value the principle of private communication. For me, this is very personal. I was born in Ukraine, and grew up in the USSR during the 1980s... The fact that we couldn't speak freely without the fear that our communications would be monitored by KGB is in part why we moved to the United States when I was a teenager."